It's late in the day again, but here are this week's Fabulous Friday Finds!
It's been a busy week here... working on some custom orders, playing in the kiddie pool we bought to cool off (since our house has no AC), taking elevations at our property (I know everyone is probably envious about my getting to walk around for three hours in 85-degree weather carrying a 24' long pole), watching fireworks on the 4th, and attending an auction (who knew you could buy honeybuns at an auction?!).

Anyway, I have some new finds. Hope you like 'em!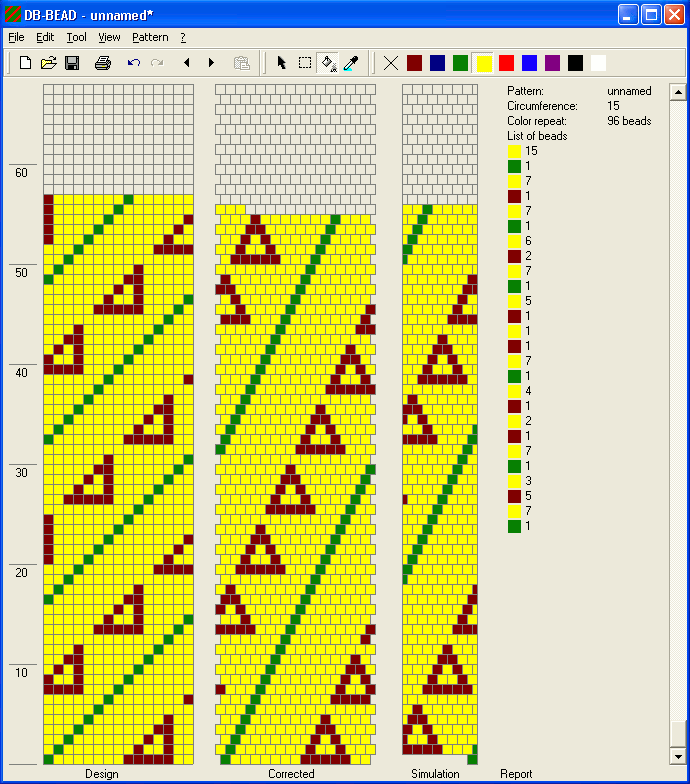 My first Fabulous Friday Find was sent to me by my friend Carol Dean Sharpe (aka

SandFibers

) when I posted a picture on

my Facebook page

of the paper mock-up I made of a bead crochet pattern I designed. As much time as I spend on the computer, you'd think it would have occurred to me to look for bead crochet software, but noooooooo. I've been doing it my own weird way, using Microsoft Powerpoint! (Hey, don't knock it -- it works.)

I have the software downloaded, but I haven't used it yet. From this picture, it appears that you can create patterns for loom / square stitch, peyote, and bead crochet! And according to the

Brunold Software website

, the bead crochet design technique is described in books by one of my bead crochet heroines, Judith Bertoglio-Giffen.

Best of all, the software is FREE. We all love free, right? :-)





Fabulous Friday Find #2 for this week is a monster. Specifically, a monster named

Carl Boobermeister

.

Carl is one of those art dolls who's so ugly he's cute. Well, kind of. I know his mother probably loved him.

He's the creation of an artist named

Alyshells

, and he's just so weird and funny that I like him. A lot. And I like a bunch of Alyshells' other creations, all of whom have interesting names and stories. The cool thing about these creations is that many of them come with portrait cards. So you can leave your doll at home and carry his/her picture around with you to show off to your friends.

I also love

Flubbin Tubbin

. What a hoot.

Visit

Alyshells' blog

for more monster goodness. Or check her out on

YouTube

. Monsters! Boo!


If you've read any of my other Fabulous Friday Finds posts, I'm sure you realize by now that I am enthralled with polymer clay. So it should come as no surprise that I have a fabulous polymer clay artist whose work I want to share.

My French is very rusty, so I can't really tell you very much about the artist, whose name (I believe) is Sylvie. Her website is called

Maniguette

, and I know her by her Flickr photostream,

Fimo Maniguette

.

Her work runs the gamut from jewelry to objects, and all are wonderfully detailed, with amazing colors and shapes. The bracelet I chose to feature here looks like something from outer space! And if nothing else, you must look at

this pendant

! Amazing. Remember that it's made from polymer clay.

Well, this is odd... I had more Fabulous Friday Finds to post this week, but Etsy is not cooperating. Phooey.


I do have one more to share, though. Once again, if you've read any of my previous Fabulous Friday Finds posts, you know I like art dolls. And the art dolls created by

Alexander Mergold

just blow me away.

I'm not sure where or when I first saw them, but I visit

his Facebook page

pretty regularly just so I can see what he's posted.

There's such a variety that it's hard to imagine they all come from the same person. Realistic looking people of every age, silly creatures, puppets, animals... you name it.

Of course, I had to choose the Mad Hatter to post here.

Cuz I love him. Even before Johnny Depp's portrayal, he was my favorite character from Alice.

Just look at that face!!!! He's ready to engage in rhetoric. I just know it.

Well, sorry there aren't more finds. But I'm at the mercy of Etsy tonight. Maybe it's a good thing. It's past my bedtime.

G'night!
:-)