Holy cow. September!
The year's gone by really quickly, and I honestly think it's speeding up. Despite the fact that most of this week was spent looking for kitchen cabinets, lights, bathroom vanities, sinks, faucets, flooring, counter tops, and all the other things we'll need to build our house, I did manage to find a few Fabulous Friday Finds that AREN'T building materials.


My first Fabulous Friday Find is a great sale, from now through September 6, being offered by my friend and fellow Bead Art Originals teammate, Darcy Horn (aka TheJadeDog).

I was cruising around on Facebook earlier today and saw Darcy's post advertising the sale: 50% off all supplies on her website! Woo hoo! And there are LOTS of supplies from which to choose, including handmade cabs and toggles, vintage beads, vintage brass, sequins, and all sorts of other goodies. (Even though the sale is for supplies, I thought you should see one of Darcy's incredible embroidered pieces - you can see more of her artisan jewelry on her website and in her Etsy shop.)

Darcy's original post:
In observance of the long weekend, making some big decisions, hitting my 9 year work anniversary at International Bead Market, 4 year anniversary on Etsy (art-to-wear), 3 year anniversary on Etsy (supplies), the big 4-0 birthday, etcetcetc....From right NOW until midnight Monday September 6th, all supplies at thejadedo
g.com are 50% off. If you are in RO, you will get the same discount, just make an appointment.


Fill up your shopping cart, check out, and Darcy will email you the revised amount plus shipping charge.
My next Fabulous Friday Find also came about as the result of my cruising around on Facebook. One of my friends posted a link to an incredible polymer clay creation by

Jon Anderson

.

I've actually seen some of his pieces in person, and they're amazing. Intricately patterned creatures covered with hundreds and hundreds of polymer clay cane slices. The slices are laid out in such wonderful detail that the animals almost come to life.

There are loads of them to look at on the

FimoCreations

website, but these horses are my favorites.


I mentioned earlier that we're shopping for materials to build a new house, so we've been looking at lots of wood. My husband and I both like the look of wood, so we'll have cabinets, doors, trim, flooring, and even a ceiling all made from wood.

When I go poking around on Etsy, I'm always on the lookout for unique wooden pieces; and this little table, called

Fufluns

, is great. It's one of those things you just like but have no idea where it would be used.

Maybe a plant stand? But that would hide the top of it. Maybe it should just sit there in the room and be art. Yep. That's it. It doesn't need to "do" anything other than reside. :-)

The table is the creation of an artist from Hungary, and you can find this and more in her Etsy shop,

designlipe

.








Without intending to do so, I guess my mind is on building materials this week... the next Fabulous Friday Find is made from concrete!

Can you believe that such a gorgeous red heart is made from one of the staples of the building industry? It also has some recycled glass in it to add some shine, and the whole piece is framed in stainless steel.

This piece, as well as lots of other unique pieces -- all sorts of shapes and colors -- can be found in the Etsy shop called

DrCraze

.

The artist's name is Jeramiah Clark, and other than his having a sense of humor (evidenced by his avatar, which is of an adult male wearing flip flops and riding a tricycle), I don't know anything about him. I just love these concrete pieces. And I might have to have one some day. :-)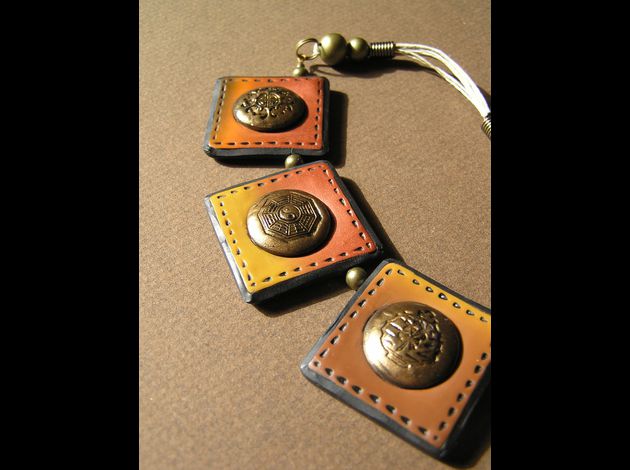 My final Fabulous Friday Find for this week is in another language...

I took two years of French when I was in high school. Despite the fact that I received straight As in the classes, I barely remember anything about the language (of course, that was MANY years ago). Now I have to rely on online translators.

Even without being able to read or translate French, though, this tutorial on

turning polymer clay into artisan pieces that resemble leather

is great. You can follow along with the pictures to see how this artist (Martine) takes polymer clay and transforms it into a gorgeous necklace that looks nothing like polymer clay in the end!

The piece you see to the left is another creation by Martine -- be sure to look through her gallery when you visit her blog.

That's it for this week's finds! More shopping next week, as we haven't made final decisions on hardly anything for the house. I may have to do a Fabulous Friday Find post that features lights, sinks, counter tops, cabinets... :-)