So what do you do when you've amassed millions of Japanese Delica cylinder beads and you don't have a lot of time to do peyote?
String them and crochet them into bead crochet ropes, of course!

At least that's what I've decided to do. It's not because I've given up on peyote. Nope. Not at all. But peyote requires that I spent hours sitting in a chair picking up beads one, two, or three at a time with a needle and following a pattern. Since we're in the midst of building our house right now, I'm having a hard time finding the time to dedicate to peyote. But that doesn't mean I can't gather up some delicas and string them to be crocheted!


And now, apparently, I'm on a roll.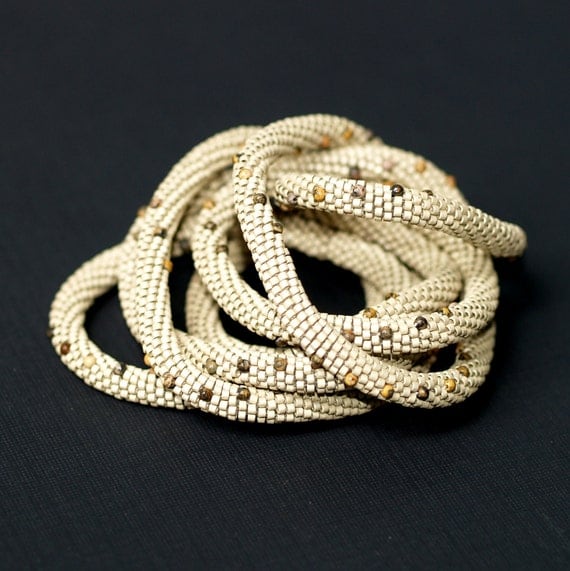 I've made a couple of other bead crochet pieces with delicas (

Sand and Stone

, which is made with beautiful satin pale gold delicas and tiny 2mm jasper rounds, was one of the first).

I came across the jasper rounds last year when my husband and I were on vacation, and when I saw them next to these delicas, I knew they were meant to be together.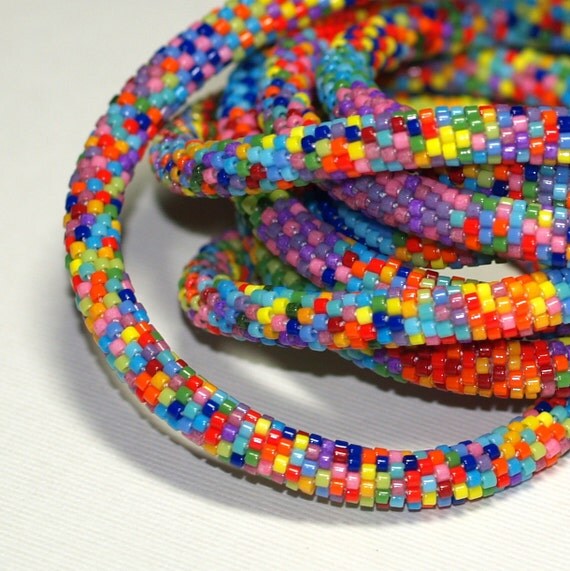 Then when I made

Zuri

using a blend I had made of opaque delicas, I immediately fell in love with what could be done with these tiny bits of glass.

This blend is made from 15 different colors - every color in the rainbow and then some! The rope has sections of blended color and other sections where I did little bits of pattern. Nothing was mapped out ahead of time - just strung on the fly - so I had no idea how some of the patterns would turn out when I did the crocheting.

That's half the fun.
Soon after I made Zuri, I used a blend of metallics to create

Nuru

. I lost track of how many colors and finishes are in this piece, but my guess is that there are at least 50 or 60 different beads (did I mention that I have MILLIONS of delicas? that's no exaggeration).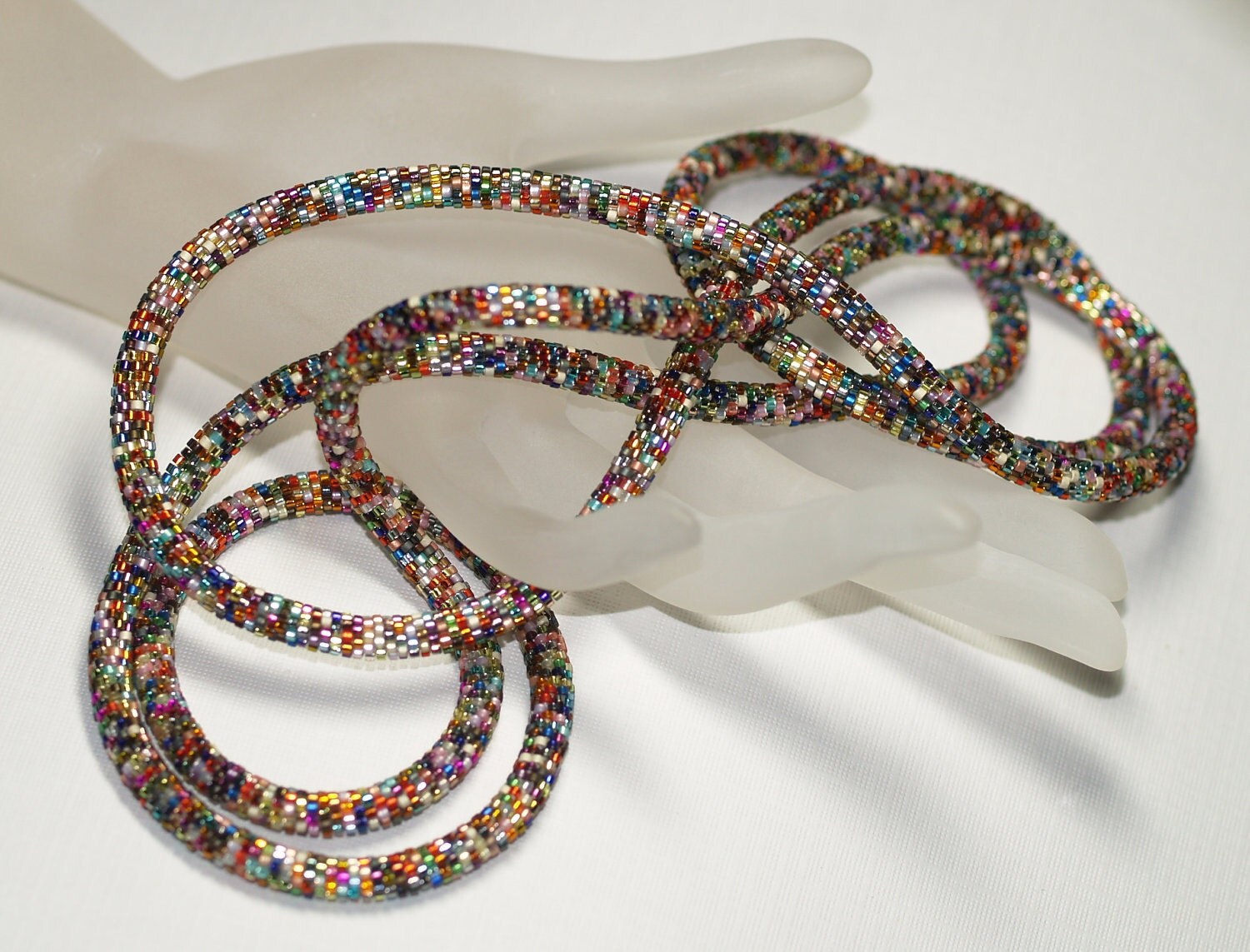 And now there are more of these pieces, as I've started stringing and crocheting even more blends. Since my favorite color combination is black and white, I just had to make one of those!

I haven't listed this piece yet, but I've given it the name Rufaro, which means "happiness" in the African language of Shona. At some point, I decided that these pieces should have African names - names with meanings that go with the individual pieces.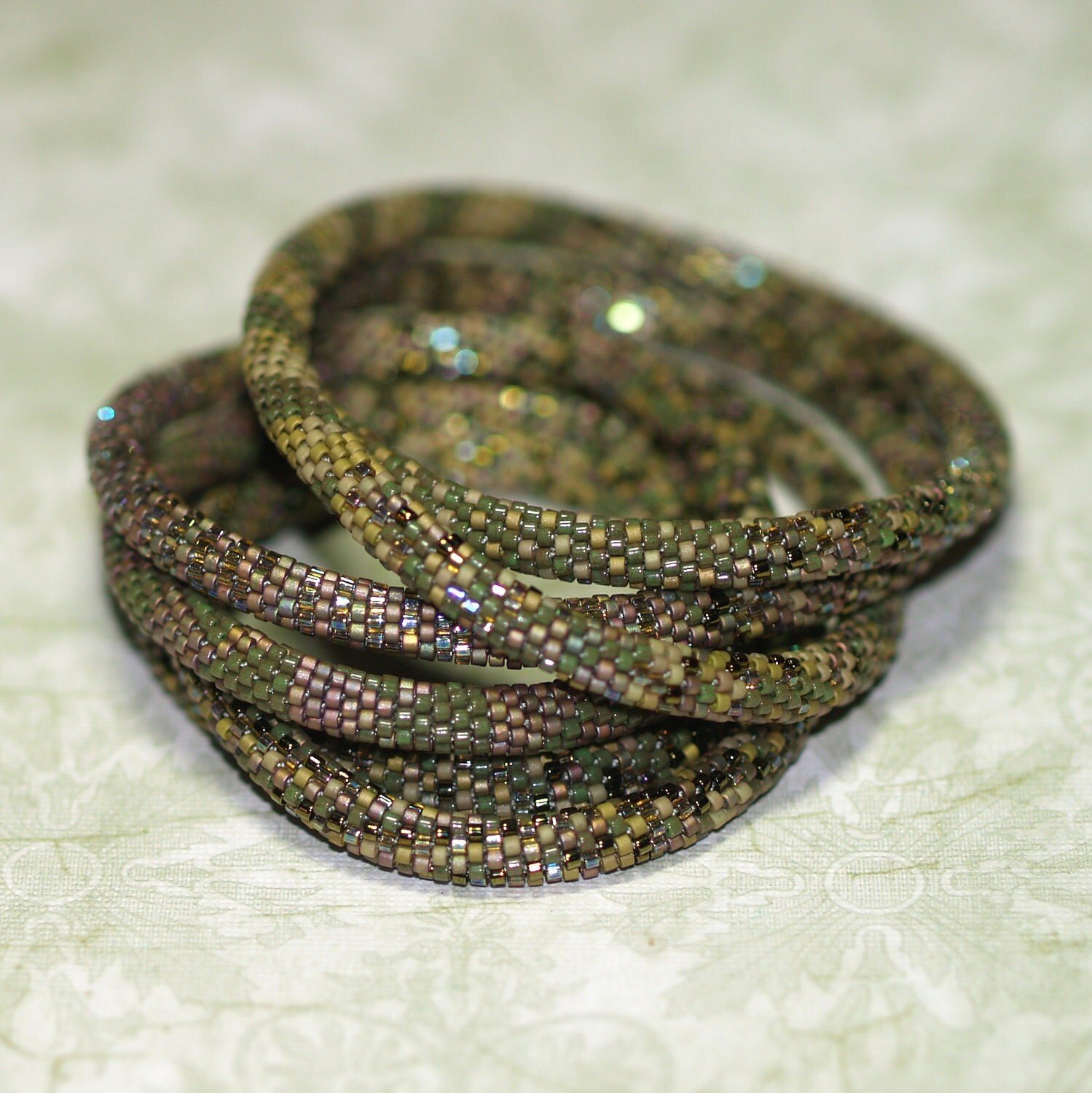 And then there's

Masamba

, which means "leaves and vegetables." A beautiful blend of six shades and finishes of olive green.




There are more... Right now I have a mix of white, crystal, and silver beads on my crochet hook (we're traveling for the Thanksgiving holiday, and bead crochet is great for road trips!). And there's a blend of beautiful blues just waiting to be started. At some point, I think there will be a red one. Maybe a purple. The possibilities are endless!

And during all of this bead crochet, my measuring spoons are finally getting some action. I'm not much of a cook (I can, but I really don't like to), and even when I do I rarely measure anything. So my spoons have been relegated to the back of the utensil drawer. When I started putting together these mixes, I thought I'd use my measuring spoons so I could have similar amounts of the different colors/shades.

And just in case you're wondering, a 54" long bead crochet rope, using 7 beads around, requires approximately 8 heaping teaspoons of delicas. :-)