It's been awhile since I created anything for the Bead Art Originals color challenge,
but since I wound up with a little bit of free time this week (thanks to the rain and waiting for building materials suppliers and
contractors), I managed to create a necklace whose colors were inspired by the Paul Gauguin Tahitian Landscape (1891).

My colors are a little muted compared to the vibrant shades in the landscape, but I was happy to find these little glass leaves whose shades almost perfectly match those in the painting.

The necklace, named

Cascading Leaves

, is an ndebele rope (aka tubular herringbone) made from Czech glass seed beads with a picasso finish. The seed beads are honey colored and coordinate beautifully with the leaves.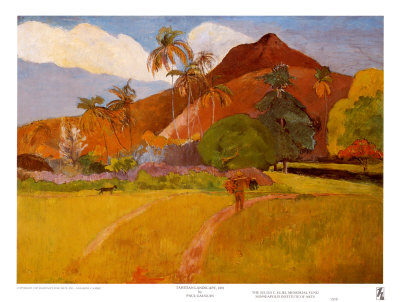 I'm not sure how much free time I'll have over the next few months, but you can bet that a LOT of it will be spent with my beads! :-)