I'm not sure what it is, but it seems like these Fabulous Friday Finds are becoming easier and easier for me.
I don't even have to go out searching for them on Fridays -- they just seem to pop up as I'm doing my normal internet surfing during the week. I just have to save them so I'll be able to share them with you.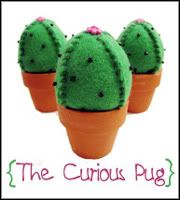 The first Fabulous Friday Find for this week is a blog post by one of my Facebook friends (and fellow Etsy seller, even though her shop is currently on vacation), Alycia of The Curious Pug.

She's compiled a set of tutorials on her blog.

Tutorial #1: How to Make a Facebook Fan Page
Tutorial #2: How to Add a Welcome Tab to Your Facebook Fan Page
Tutorial #3: How to Take a Screen Shot of a Treasury
Tutorial #4: How to Set Up a Google Analytics Account
Tutorial #5: How to Make Your Photos POP in Photoshop
Tutorial #6: How to Create an Etsy Mini
Tutorial #7: How to Install a Font
Tutorial #8: Long List of Tricks and Tips for Etsy Sellers
Tutorial #9: How to Create and Send a PayPal Invoice
Tutorial #10: How to Create a Slideshow for YouTube


The second Fabulous Friday Find is the incredible work of a polymer clay artist, Dawn M. Schiller. I honestly don't remember how I came across her work, but it's amazing. Gnarly fingers, faces with so much personality they look like they could walk (crawl, scurry, creep) off the page... I love these dolls of hers!

Dawn has an Etsy shop called

oddfae

, but I spent most of my time browsing through her and

website

and

blog

. Those guys you see to the right are some of her hermits. Adorably ugly.






My third Fabulous Friday Find also comes from a new Facebook friend, Nancy Schindler. I had to chuckle when I saw her blog post entitled "Mighty Brighty Lighty is Alrighty!" You just know she has a sense of humor.

Well, she also has a sense of style, as you can see from the beautiful porcelain necklace pictured here.

You can find that necklace and more of her finished jewelry in her Etsy shop, roundrabbit. But the place I think I'll be doing a little shopping is in her other Etsy shop, roundrabbitextra. You see, her second Etsy shop is where she sells jewelry components - gorgeous porcelain pieces of all sizes and shapes and colors. I particularly like the tiny frames she makes - now I just have to figure out how to use some of them...


If you've spent any time on Etsy, you may have seen my next Fabulous Friday Find somewhere along the way. I am completely enthralled by Colleen Downs'

LoopyBoopy

art dolls. Truth be told, if I had endless supplies of money I think I'd buy every one she has listed anywhere. That's how much I love them. That one you see in the picture is Alice in Wonderland.

And while there are a lot of LoopyBoopy dolls in her Etsy shop, aptly named

LoopyBoopy

, you can see even more if you visit

Colleen's blog

. And you can read about her doll-making obsession. And how she prowls through closets at night to find the perfect shade of blue fabric for a doll's dress... yes, Colleen is someone I can completely understand.

I'm not too old to play with dolls, am I? I don't think so. I think I need a doll. I think I know where to find the perfect one.

Maybe I should go see

Alice in Wonderland

today... in 3D, of course! :-)