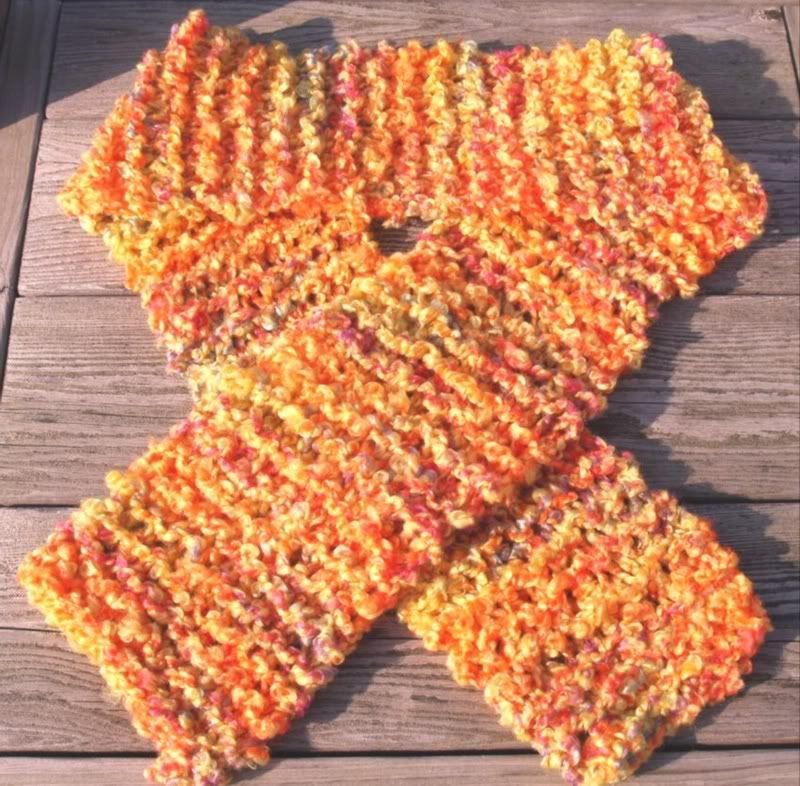 I found some of my favorite yarn! It's Red Heart Light and Lofty, and it's my absolute favorite yarn to use. I've made all kinds of baby blankets from the Red Heart Baby Clouds, which is the same basic yarn but in baby pastels. They're always the favorites of the kids who receive them. I made one for my husband's cousin, Marcus, when he was tiny; and now that he's a little over a year old, we're told that he drags his blanket out into the living room floor, fluffs it into a pile, and dives into it headfirst! Now how many baby blankets are that soft!!! :-)
So anyway, I found some of this yarn in some colors I hadn't used, so I just couldn't resist. And now I find that they're making even MORE new colors and calling them Bright and Lofty. Mmmm mmmm mmmm. I've already knit three scarves and am working on a fourth. They'll all make their appearances on Etsy pretty soon.
We have a new tool in the household... The John Deere didn't appreciate being used to mow over rough terrain, and it began to come apart. Rather than track someone down to weld it back together, we are now the proud new owners of a Clarke Welder. Thirty minutes of watching the video that came with the machine, and another thirty minutes of reading the instructions, followed by about an hour of trying to make sure everything is set up correctly -- and we're welding! Actually, I'm standing near the outlet to yank the cord out of the socket in case something goes awry, and my husband is in the driveway welding. The weld certainly isn't pretty (and I don't foresee my husband crafting any jewelry or other decorative items any time soon), but it appears to be sturdy. Guess the true test will be when the mower is used again.